Application Development and Services for RIM Devices
Our development expertise and stable infrastructure can go a long way in co development, testing and rolling out your custom application to the customers.

We have an established connection to Mobitex network and can host enterprise level applications.

If you have a need, we can always provide a Smart Custom Solution for your application. Altagon successfully combines mobile network access with in-depth development proficiency.
Altagon Systems extends its broad software development experience in embedded telecommunications applications to the Research in Motion (RIM) Blackberry™ mobile platform. We are looking for strong business partners, to participate in this growth market with us.
In this wireless market segment, we position ourselves as an application development and hosting company, a unique combination of knowledge and infrastructure.
Altagon Systems provides full development cycle including client requirement analysis, design, development, testing and support as well as third party Application Hosting using our FST Servers.
Services and Expertise Portfolio
· WCS - Wireless Collaboration Suite, client/server application provides flexible information exchange for mobile businesses of any size, including private SMS, Chat, News, Message Board and more. Applications reside on our servers and are available for remote customization, administration and monitoring from any web-enabled computer. Our network connection is depicted below: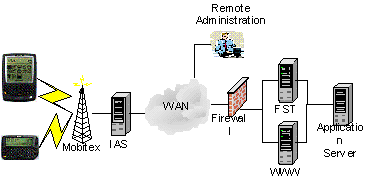 · WCCT - Wireless Credit Card Terminal using APRIVA Magcard Reader and APRIVA X57, 100% customizable application provides full scale support for mobile businesses to accept and verify credit card and transaction recording
· Tracking/Navigation system, we are working to integrate Blackberry with GPS receiver and create unique tracking and location control system
· Third party application support and co-development
Join the Ranks
We keep an open mind to any kind of business and technical ideas. If you are interested to move forward in this area please contact at the address indicated below.
Altagon Systems is proud to be a Research in Motion development partner.
555 Legget Drive, Suite 304 - Tower A
Ottawa, ON, K2K 2X3, Canada
Phone: +1-613-271-2125
Toll Free: +1-866-Altago1
Fax: +1-613-271-2121
Email: blackberry@altagon.com